Use data to transform your Accounts Payable process
Discover the metrics that matter.
We make it simple to identify key P2P process improvements.
Finding issues in your processes is a difficult task as it's time-consuming to gain this knowledge internally. We've done the work for you by creating reports designed to give you insights into your AP processes. 
How it works. 
Our software creates reports using your transactional data and the risks that we find, supporting users and managers alike. Because we know every business is unique, we can also work with you to create bespoke reports. 
Our simple data visualisation makes the cause of risks clear, helping you to identify where P2P and AP processes can be improved.  
Customer success stories& testimonials.
I find the vendor audit tool most helpful. When used properly, you can maintain a clean vendor master list.
The results were amazing. After four weeks we had discovered high-risk payments which more than paid for the solution itself.
We really value the ease of use and transparency of useful information, and the peace of mind that comes with using NXG Forensics.
As a shared Service organization, the FISCAL product has helped us avoid transacting over 20 million of duplicate payments. This represents an excellent insurance policy for the 11 organizations that we service.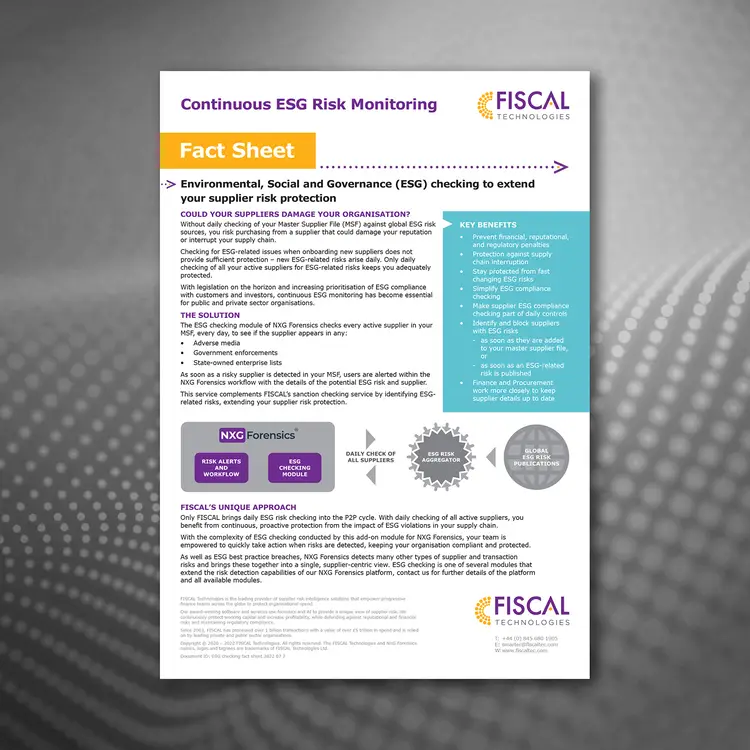 Continuous Sanction Monitoring
Sanction lists are updated every day, but only 9% of organisations* cleanse their Master Supplier File monthly or more frequently.
LSE Supplier Risk Intelligence Brochure
PLCs are facing an unprecedented level of risk in their Procure-to-Pay (P2P) cycle. 
Solution Overview Brochure
Unnecessary cash leakage is caused by weak or out of date controls in procure to pay processing.
Want to know more about FISCAL Technologies?
We'd love to show you our solutions in action!